---
The Cadillac Lyriq offers a little bit of everything: a respected pedigree, modern luxury, the latest technology, and efficient performance. To help drivers in Lubbock, Amarillo, and Midland, TX, learn more about what it's capable of and what it can do for you, Cavender Cadillac of Lubbock put this 2023 Cadillac Lyriq preview together.*
---
Electric Powertrain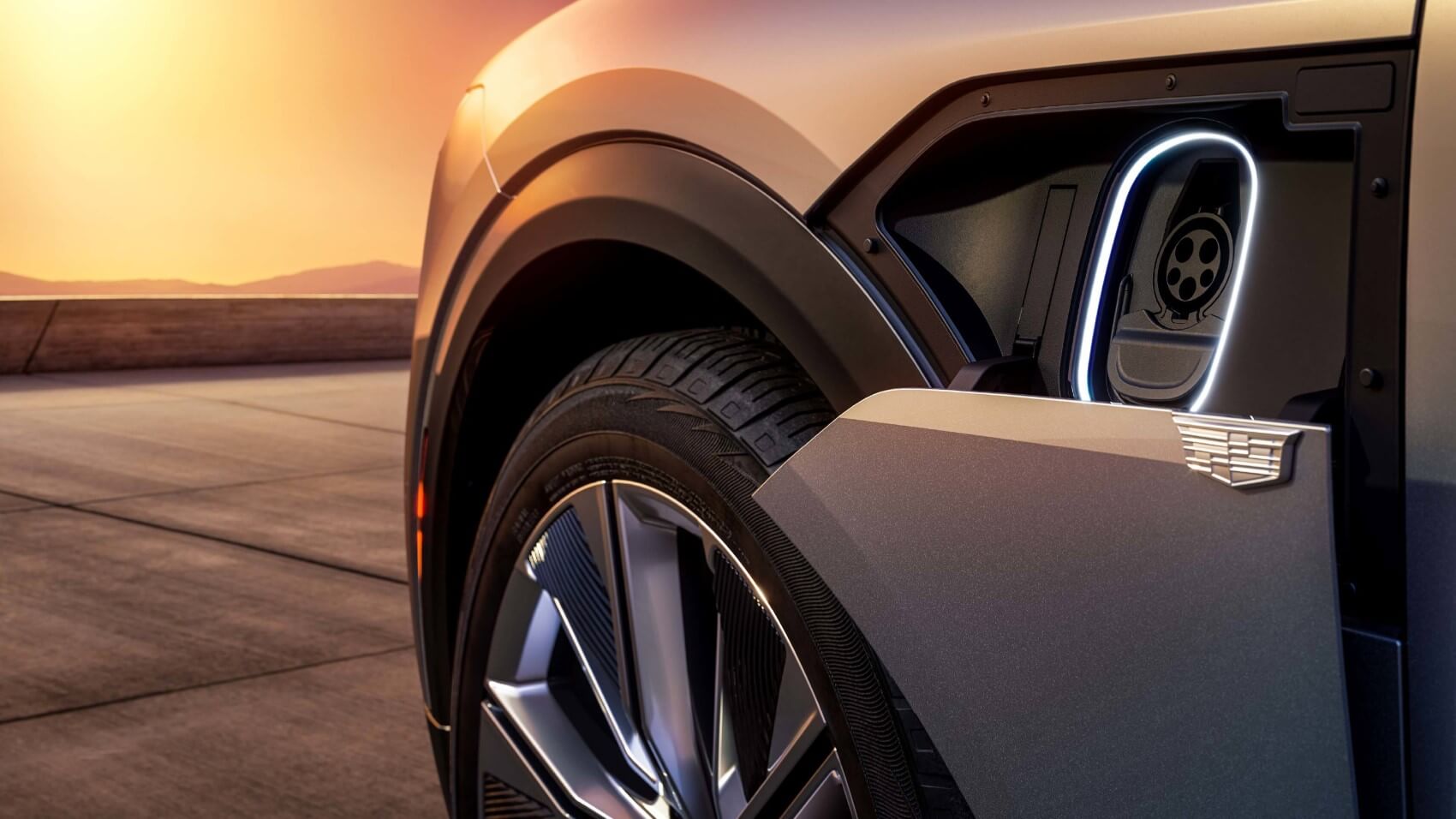 With a 12-module/100.4-kWh Ultium battery, the 2023 Cadillac Lyriq offers an EPA-estimated driving range of up to 300 miles.1 To deliver that kind of impressive range, features like Regen on Demand use regenerative braking to charge your battery while you drive. The One-Pedal Driving feature even uses your motor as a generator to extend your battery life.
An at-home Level 2 (AC) charger makes it easy to charge your SUV overnight in your garage. With the 240-volt plug, you'll be able to add 52 miles to your driving range every hour.2 When you're on the road, you can quickly boost your battery life at a DC fast charging station. In just 10 minutes you can tack on 76 miles to your driving range.3
This next-gen powertrain also offers a high-powered performance with 340 horsepower and 325 lb-ft of torque. That's enough to tow up to 3,500 pounds. It also offers sporty handing like a 5-link front and rear suspension. Plus, on-demand driving modes can help you personalize your drive or adapt to different driving conditions with selectable driving modes like Sport, My Mode, Tour, and Snow/Ice.
---
Sleek, Spacious Design
The Cadillac Lyriq leaves a mark on every passerby with a look that's both familiar and fresh. It shares a similar style to other Cadillac SUVs but replaces the grille with an illuminated Black Crystal Shield that features three-dimensional texturing. Slim LED headlights and taillights complement this feature and rounds, out the exterior's streamlined design.
Inside, you'll find a similar look with a fixed-glass roof and ambient lighting with 26 colors to choose from. Active Noise Cancellation and acoustic laminated glass come standard to help you enjoy the ride, while a power sunshade can help keep the cabin cool.
There's also plenty of room to stretch your legs. The 2023 Cadillac Lyriq features seating for five, a roomy design in both rows of seats, and lots of convenient cargo room. Check out how spacious this compact SUV really is:
Passenger Space: 105.1 cubic feet
Cargo Room Behind Row (front/rear): 60.8 cubic feet/28 cubic feet
Headroom (front/rear): 38.6 inches/37.7 inches
Legroom(front/rear): 41.4 inches/39.6 inches
---
Cutting-Edge Tech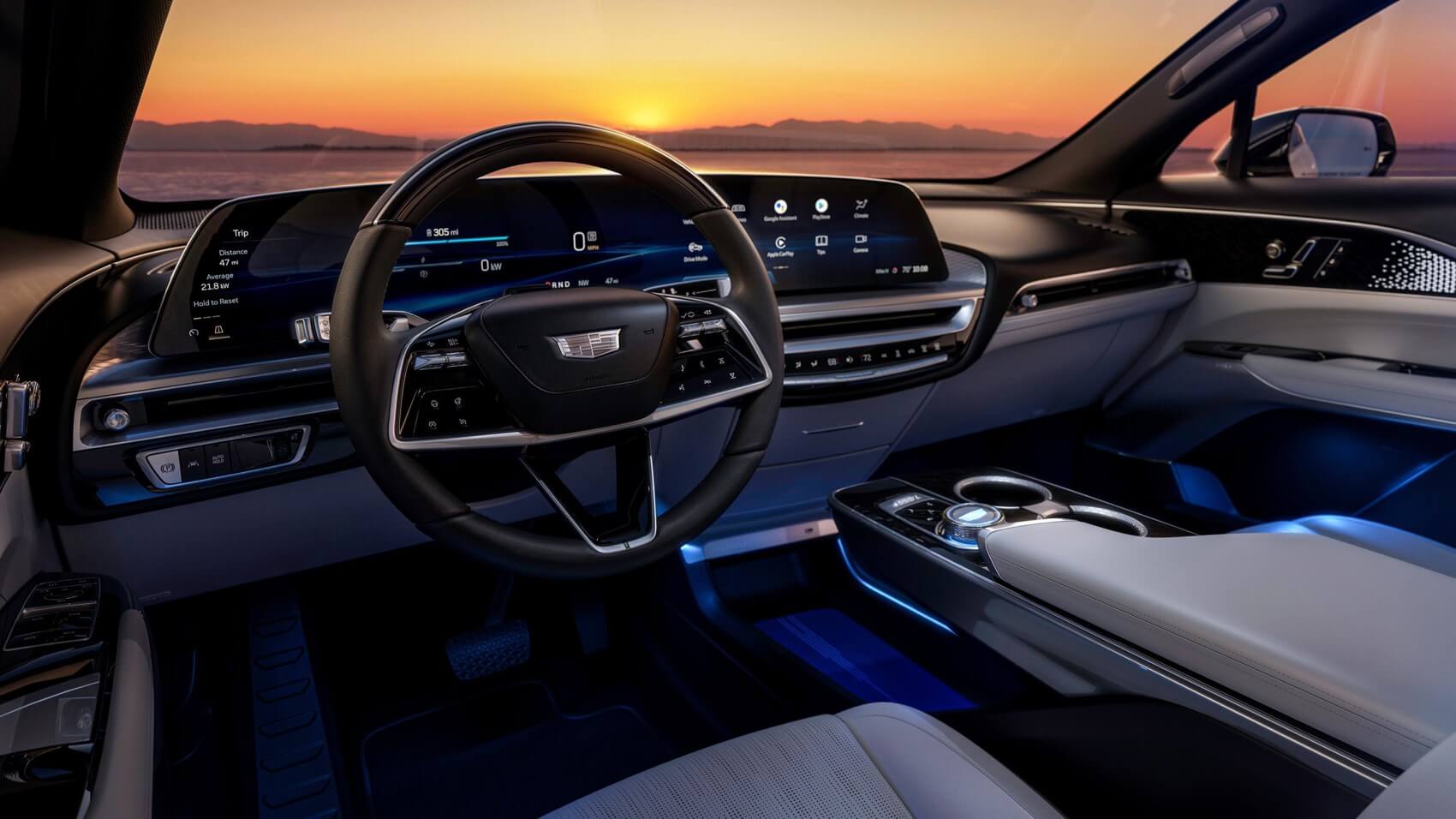 The 2023 Cadillac Lyriq is also equipped with state-of-the-art technology. You'll always have the latest software, too, thanks to over-the-art updates. Much of the tech can be found on a 33-inch diagonal advanced LED display. It stretches across the dashboard and the instrument cluster and includes features such as:
Wireless Apple CarPlay® and Android Auto™
Built-in Google Assistant
Google Maps
Google Play
With that kind of connectivity, you'll be able to find the fastest route, get directions, and cue up your favorite playlist without even taking your hands off the wheel.
Plus, you'll be able to see what's around your SUV with camera systems like the HD Rear Vision Camera and the HD Surround Vision system. They're just some of the high-tech safety features that'll give you peace of mind. You can even take a break on long drivers by flipping on Super Cruise™. It lets you enjoy a hands-free driving experience.
---
Learn More About the Electric Cadillac Lyriq
Visit Cavender Cadillac of Lubbock to learn more about 2023 Cadillac Lyriq preview and reserve yours today. It's an exciting and efficient option for drivers in Lubbock, Amarillo, and Midland, Texas. Contact us to schedule a test drive.
* Model not yet released. All specs mentioned herein have been cited from Cadillac and are subject to change by the manufacturer.
1Based on GM testing. GM estimated. EPA estimates not yet available. Actual range will vary based on several factors, including temperature, terrain, battery age, loading, use and maintenance.
 2Requires professionally installed 19.2 KW AC / 100A dedicated charge station. Charging unit not currently available through Cadillac. Actual times will vary based on battery condition, output of charger, vehicle settings and outside temperature.
 3Actual charge times will vary based on battery starting state of charge, battery condition, output of charger, vehicle settings and outside temperature. See the vehicle's Owner's Manual for additional limitations.
---